Looking for a good book for your soccer playing kid? Soccer for Dummies, one of the latest in the popular For Dummies series, makes for a great holiday gift for any kid that aspires to become the next David Beckham or Mia Hamm.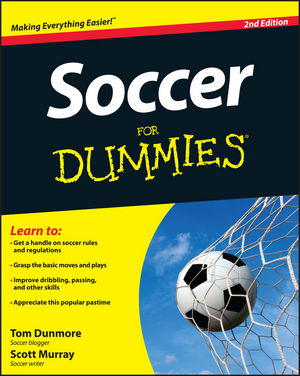 The For Dummies series simplifies just about every subject in an easy-to-follow format, and this book will teach you soccer basics, help improve your game knowledge, and teach you all the ways you can improve your soccer playing goals. It is education, too, and offers a beginner's history of soccer, from its early days in China to the modern game today. You'll learn the rules of the game and the responsibilities of each player. You'll find out more about the international tournaments like the FIFA World Cup and the Copa America. If you're more of a soccer fan than a player, you'll learn what to expect at a professional soccer game and all the resources for finding more about soccer online, in movies and on tv. Anyone passionate about soccer will appreciate the fun soccer facts and the profiles of some of the game's most reknown players.
The teacher in me also recommends this book for reluctant readers that love soccer, either as players or fans: the easy-to-read format and the subject matter will draw in reluctant readers that will keep on reading because of the topic and the no-nonsense way its presented.
My son, age 12, read this book before his soccer season this year and really enjoyed it. Here is my son's take on Soccer for Dummies, now available online.