I recently received two beauty products to review:
The first, a
Silk'n Flash & Go Permanent Hair Removal System
was a Godsend. Okay, maybe that's a bit of an exaggeration, but I have been a client at
American Laser Skincare
for seven years, and for seven years I have DREADED going in for my laser hair removal touch-ups. There is nothing more unsettling and unnerving to me (in the beauty department) than stripping down, wearing sunglasses yet freezing my butt off, and being painfully zapped by a laser hair remover. That said, laser hair removal has worked well with my skin (very fair) and hair type. In the end, I really have saved money and most of all, time. But back to the maintenance appointments: I dreaded them. So when I was gifted a Silk'n Flash & Go system, an FDA cleared home laser hair remover, at a
Pretty City
event, I was delighted! It's super easy to
use, and in the comfort of home, I can zap away unwanted hair forever. The pain level of this device feels the same as the lowest setting at a clinical laser hair removal center. I've been using this device for a little over a month know, and yes, it does work. It works so well, that I don't feel that I'll ever need to step foot in a center again - I can do all my touch ups at home from now on. That said, I feel that this is a great device for touch-ups/maintenance only, or for smaller areas. It would take forever to remove hair on say, your lower legs or upper thighs. Also it's not as powerful as the laser hair removal in a clinical setting.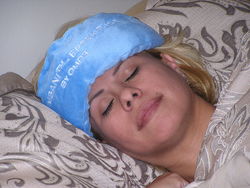 The second is the Mumbani Fresh Face, which promises to smooth sleep wrinkles, lines and creases caused by sleeping on your side or stomach. I am a stomach sleeper - but thankfully, I still don't wake up to major sleep wrinkles or creases. Yet. I gave the Mumbani a try, and I even sprayed it with some lavendar essential oil, and well, I must admit I did indeed sleep better. I'm not sure though, that this is the bedtime look that I am ready to wear just yet, even at my ripe old age. Yet, again.
I want to thank both companies for letting me give these products a try. All opinions are my own, and I wasn't asked to write about either.