Every Thursday, my Dad comes to town to spend some time with my children. Like all awesome Grandpas, he comes bearing gifts: Scamorza from
Caputo's Cheese Factory
,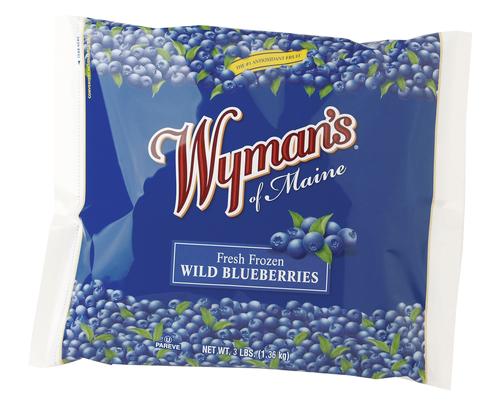 butter cookies from
Veseckys in Berwyn
, lollipops for Chiara. One such gift was a giant, 3 pound bag of
Wyman's of Maine fresh frozen wild blueberries
.
I never really liked/purchased frozen fruits, but these blueberries made me change my mind. They are just sweet enough and still bursting with fresh picked flavor. Having a three pound bag of blueberries in the freezer means that there is always a healthy snack on hand: Blueberries topped with a dollop of whipped cream. Mixed with plain yogurt and a spoonful of honey in the food processor for a delicious, easy and quick homemade "ice cream" (my Dad's invention). They are the perfect add-in to pancakes, waffles and
muffins
. I've been having a small bowl of plain blueberries, every day as a mid-morning snack, to bring a few vitamins and a sweet taste of summer to my (crummy, January, winter-in-Chicago) day.
And wow! -
blueberries really are nutrition powerhouses to boot
!